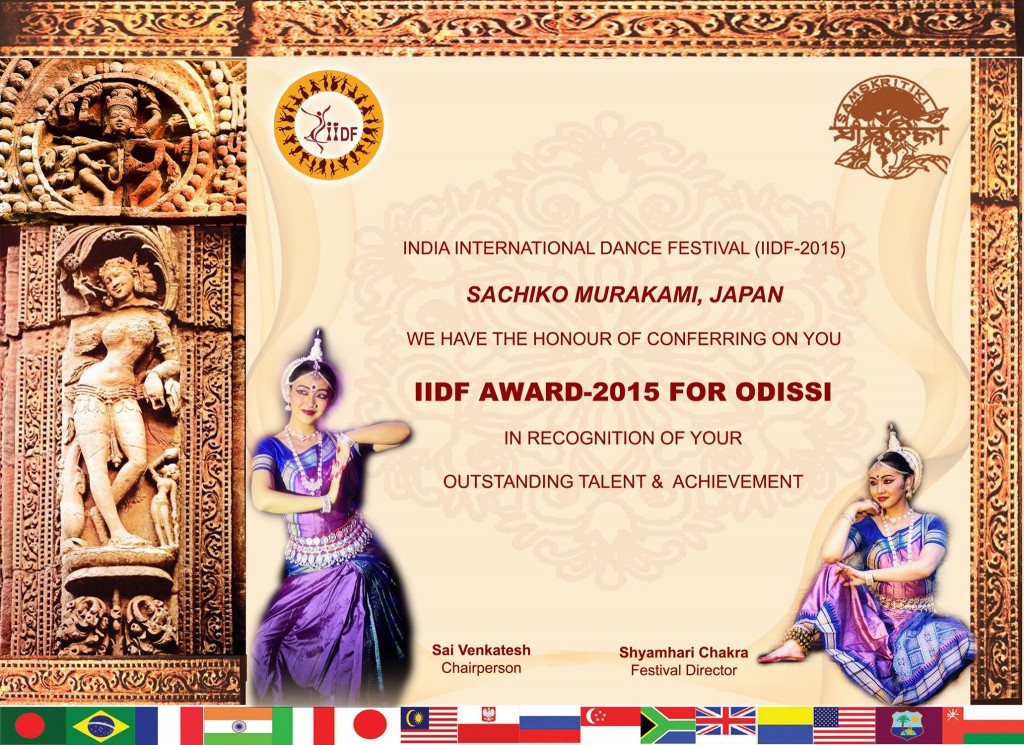 Winner of the IIDF-Sanjukta Panigrahi Memorial Award for 2015 : SACHIKO MURAKAMI from Japan. Congratulations!
THE RECIPIENTS FOR IIDF- SANJUKTA PANIGRAHI MEMORIAL AWARDS FOR 2015 ARE: Sachiko Murakami from Japan for Odissi; Warda Rihab from Bangladesh for Manipuri; Leena Malakar from Nepal for Kathak; Sreelakshmy Govaradhan from Kerala for Kuchipudi; Lima Das from Assam for Sattriya; Renjith-Vijna (dancing couple) from Chennai for Bharatanatyam, Vidya Moul Pradeep from Kerala for Mohiniattam. Confirmations from the nominees for Chhau, Kathakali, Vilasini Natyam and Contemporary are being awaited.
Oh my god…Thanks so much IIDF and Shyamhari Chakra bhai.This is a great honor for me and I deeply appreciate this award.I become nervous…but I'll do my best.
10月に東インド・オディッシャ州で行われるインディア・インターナショナル・ダンスフェスティバル、オリッシー界伝説のクイーン、サンジュクタ・パニグラヒメモリアルアワード受賞者に私の名前が、、、ウソでしょ。夢でしょう?とってもとっても信じられないことが起きましたよ。泣きそう、、、うううう嬉しいです。あー緊張で胃が痛くなって来ましたよ。私が選ばれるなんてウソみたいで緊張します。
セレクターの方からメッセージ頂戴致しました。
your love, survive and dedication to Odissi.
YOU DESERVE OUR SPECIAL HONOUR.
You are our pride, pride of odissi.You dedicated your life to odissi.
泣きそう。有難いお言葉を真摯に受け止めこれからも益々練習に励みます。ずっとずっと支え応援してくださる皆さまに感謝の気持ちを込めていつもありがとうございます!